20th October 2021
Northern Ireland Opera takes part in a landmark concert, 'Live at the Waterfront'
Live at the Waterfront! is a landmark concert at Belfast's Waterfront Hall showcasing Northern Ireland's musical and artistic talent – past, present, and future. Featuring some of Northern Ireland's finest singer-songwriters, musicians, actors, and comedians, in a completely unique show and taking place on Friday 22 October, the concert's dynamic line-up is a celebration of extraordinary artistic talent.
Northern Ireland Opera will be presenting a stunning performance of Northern Irish composer Hamilton Harty's 'Sea Wrack' in a new arrangement by Bryan Evans. This will be performed by four opera singers from Northern Ireland, sopranos Mary McCabe and Ellen Mawhinney (winner of this year's Festival of Voice), tenor Owen Lucas and baritone Malachy Frame, all of whom have either competed in (or won!) our Glenarm Festival of Voice or have been part of our development programme, the NI Opera Studio. All are currently forging careers in opera. They will be accompanied by pianist David Quigley, who has performed for us at the Glenarm Festival of Voice in previous years.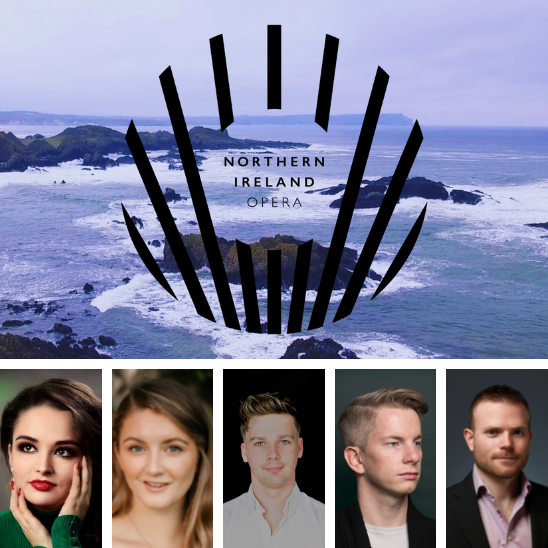 The singers will perform in front of a backdrop of spectacular drone images of Northern Ireland's breathtaking landscapes and scenery and will be styled by artist Sara O'Neill in her Éadach designs which are inspired by Ireland's myths and legends.
Over 70% of tickets will be going to workers in health and social care, food retail and charities. Audience members will enjoy music ranging from rock, classical, indie, traditional and opera to Americana.
A selection of Northern Ireland's much-loved comedians will also make an appearance, including Paddy Raff, Tim McGarry, Mickey Bartlett, and May McFetridge, who has just completed her 30th year at the Grand Opera House.
The audience will also be treated to a medley of highlights from recent films and TV series produced in Northern Ireland.
In addition, some of our finest actors, including Ian McElhinney will read from works such as Ciaran Carson, Leonita Flynn, and Seamus Heaney.
The concert is being jointly produced by NI's Shine Productions and Snow Water, and will be filmed for television by Green Inc Film and Television. It is supported by the BPI, Arts Council NI and NI Screen and is funded by the Northern Ireland Office.
For more information, click here.