27th August 2021
The 11th Festival of Voice begins in Belfast
The Festival of Voice returns to celebrate voice and song with a thrilling competition finale this weekend in Belfast.
Northern Ireland Opera is bringing The Festival of Voice our much-loved annual celebration of singing to Belfast this weekend, in partnership with BBC Radio 3. All events will be performed live in the First Church Belfast on August 27-29th: BBC Radio 3 will record this weekend and broadcast the recitals in the early Autumn while the culmination of the festival, the Competition Finale is open to audiences this year and takes place on Sunday 29th August at 7pm: booking is essential and is available via niopera.com
For the first time this year, there is also a Song Prize, sponsored by The Priests Charitable Trust which will be presented by Father Eugene O'Hagan to the singer whose song is judged the best performance of the night. The Priests are an international singing sensation, and studied classical voice in Belfast with the legendary coach Frank Caper.
Usually this celebration of the best young opera voices from the island of Ireland takes place in the beautiful coastal village of Glenarm. While we cannot be there this year due to COVID 19, we are delighted to still be able to bring live performance to Belfast across three days of recitals.
For the competition element of the Festival, six finalists have the opportunity to work with prestigious vocal coaches across the weekend in the build-up to our annual finale where they compete by performing arias, duets and Irish songs in front of a judging panel of opera experts, hosted by our Patron, Sean Rafferty. These events will all take place in the historic First Church Belfast, home to our annual Summer Recital series and Christmas Concert. The winner of the Deborah Voigt Opera Prize will become the Northern Ireland Opera Voice of 2020 and the audience will also vote for their winner
This year's finalists are Amy Conneely (mezzo-soprano), Caroline Behan (soprano), Cerys MacAllister (soprano), Ellen Mawhinney (soprano) Katie Richardson McCrea (mezzo-soprano) and Matthew Mannion (baritone). The Peter Rankin Piano Intern is Brendan Kennedy.
The Glenarm Festival of Voice also features three BBC Radio 3 Recitals. This year we will welcome soprano Elizabeth Watts, mezzo-soprano Kathyrn Rudge and Ben McAteer, with pianist Simon Lepper. These performances are not open to audiences this year due to COVID restrictions but will be recorded in the First Church, Belfast and broadcast in the autumn on BBC Radio 3.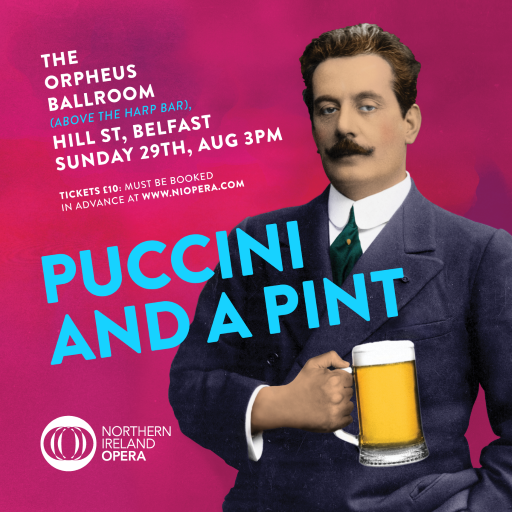 The Festival of Voice is generously supported by the Arts Council of Northern Ireland, Belfast City Council and the Esmé Mitchell Trust.